Since some of the gang are gathering tomorrow night to catch the season finale of
Doctor Who
, I thought it'd be fun to shed a little light on one of the original show's cheesiest moments. Any show that runs 26 years is bound to have highs, lows and gouda.
Episode 3 of
The Underwater Menace
(1967) is the earliest surviving intact episode of Doctor #2, Patrick Troughton (best known to our generation as the priest who pays the ultimate price for trying to warn Gregory Peck about little Damien in
The Omen
). To back up a bit - during the 1970s, the BBC wiped out many of the videotapes in the library, partly because of costs involved in rerunning the shows, partly because of miscommunication, partly for space, partly because they figured nobody would want to watch black & white shows in the future. Go through any long-running BBC show prior to the early 70s and you're bound to run into episodes that no longer exist or were salvaged from foreign buyers. In the case of
Doctor Who
, just over 100 episodes up through 1969 are no longer intact (by comparison, other than live TV that was not kinescoped and most of the first 10 years of Johnny Carson's run on
The Tonight Show
, US television history has fewer purges).
I have shown several friends this magical episode and all dropped their jaws.
Beforehand
: The Doctor and his companions Ben (a 1960s Cockney seaman), Polly (a swingin' 1960s London secretary) and Jamie (a kilted Scotsman from 1745) land in Atlantis, sometime after the '68 Olympics. They run into the mad, mad, mad Professor Zaroff, who is determined to rule the world by flooding most of it. He has hoodwinked the dippy Atlanteans to help him, under the pretense of raising the sunken continent.
Cue the opening credits...
The Underwater Menace Part5
by matrixarchive
We join the story just as Zaroff has captured the Doctor and a wise Atlantean priest and sends them off to be sacrificed to the mighty god Amdo. They are taken away by a fey, roly-poly high priest.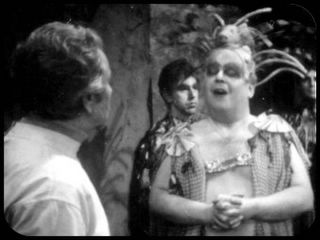 One of the high-priest's subtler, understated moments.
The Doctor manages to escape when his companions discover the secret of Amdo - it's a giant rock head with an elementary school PA system.
Afterwards, the Doctor hatches a plan to distract Zaroff by sabtoging the food supply, harvested by the Fish People, humans mutated into pea-brained mermen wearing...well, take a look for yourself...words can't do them justice.
Here fishy, fishy, fishy...
A miner with a dodgy Irish accent convinces the Fish People to revolt and cues the sequence that cause this episode to be preserved - an underwater ballet.
This is where the episode's budget went - several minutes of actors in funny costumes flailing away or accidentally propelled backwards on their wires. The laws of buoyancy are off-kilter in this kingdom. All the scene needs is a giant rubber octopus.
Somewhere, Aquaman and the Sub-Mariner are crying.
After masquerading as a gypsy (apparently a few immigrated to Atlantis, judging by the non-reaction he receives as he shakes his tambourines), the Doctor captures Zaroff, who promptly has a heart attack. The Doc's not impressed.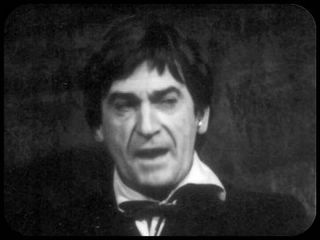 Not impressed at all.
While the Doc, Ben and Jamie run off, Polly and an Atlantean stay behind. Zaroff begs for mercy...then stabs the Atlantean. More running around, then the episode ends when the Atlantean king finally realizes Zaroff's off his rocker and orders to stop whatever's he's doing. Not a smart move, especially when Zaroff has a gun...
A wild look of glee spreads across Zaroff's face as he yells out...
it's best if you listen for yourself
.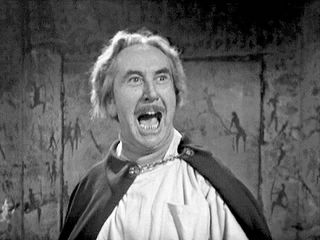 If your jaws haven't dropped by this point, you ain't got a pulse. Overacting at its finest.
As for what happens next? Go search the web...
Hmmm, maybe I should start a regular feature on some of the wackier videos in my collection...in that case, coming soon -
'Manos' The Hands of Fate!
-
JB