Friday, July 20, 2007
1,212: BONJOUR TRENTE-DEUX
Birthday Eve
Started off the day with a cheese and zucchini run to St. Lawrence Market (this wasn't the intention; it was all I bought). Originally, I was going to stop at
the new market at the Brick Works
on the way down, but parking was impossible.
Trip #2 downtown was brunch with friends at the
Victory Cafe
. The sky couldn't make up its mind what it wanted to do, so we grabbed two tables by the window, which proved a perfect spot. I indulged myself with a huge plate of blueberry-banana pancakes - the remnants are pictured above. You can see me
working my way through the meal
.
After a quick research trip to the Reference Library, the next stop was the Factory Theatre for my second show of the Fringe,
Dickens of the Mounted
. A well-perfromed one-man show, it revolved around Charles Dickens' son
Francis
, who wound up serving as a mountie for a decade, his career culminating around the
Northwest Rebellion of 1885
.
The day ended with a gettogether for
another site I write for
. Fun evening, though a lack of Strongbow at the bar kept me on a steady diet of sodas occasionally mixed with booze.
Birthday
Initially, my plan was to hop in the car, head over the hills and far, far away for the first half of the day. Good plan, until the rain started once I crossed the city limits.
One of several anti-airport signs I saw in Pickering, this one at the end of Major Mackenzie.
Despite the weather, I managed to run a few errands before meeting up with the PPP for dinner at Future Bakery. The sky cleared long enough for us to enjoy our meal on the patio. I might have gotten the hopes up of the others when I mistook pieces of melon in our pitcher of sangria for pineapple. Since the girls know my habit of regularly crossing the border and given my influences growing up, my present was a copy of
How to Be a Canadian
. Fear not, I'll start applying its lessons this weekend...
Overall, it was a wonderful weekend to ease my way into my 32nd year of business. -
JB
Saturday, July 23, 2005
Hey folks, I'm back on my feet again. The cold is in its last stages, just the occasional coughing spell. I should have stayed home on Wednesday, but one meeting and a mound of work did not need to be dumped into anybody's else's lap...which I had to do anyway on Thursday when half of the documents I expected to wrap up lingered on (and were there to welcome me back yesterday - my anxiety was unjustified).
The combination of nasty cold and many other things that went on this week has caused a 42-car pileup in items awaiting entries. Consider the next few a crash course.
True to form, my birthday fell amidst the most oppressively hot days of the year. A few moments of anxiety led into
Charlie & The Chocolate Factory,
due to tickets selling like hotcakes. We weren't above searching for no-show tickets (got lucky twice), while others just missed the mark. Highly recommend it if you haven't seen it yet - how many movies allow Christopher Lee a touching moment?
Headed over to the Toronto Islands on Saturday, the muggiest day of the year. Want to have fun and dehydrate yourself in a hurry? Walk slowly from Ward's Island to Hanlan's Point, with stops for a picnic and croquet.
How heavy was the air? Here's a shot of the Toronto skyline, taken east of Centre Island. Not a healthy picture.
Here's the brave folks who braved the putrid air gearing up for a round of croquet. Steve and Mark prepare the course, James prepares his socks, Elizabeth observes and Paul (foreground) and Shereen (background) lie in peaceful contemplation of winning strategies.
The sky decided against opening up until we were nearly finished dinner, at Margarita's over on Baldwin St. The tostadas were cilantro heaven. After lying in a heap for a couple of hours at home, I headed back downtown to use up the last spot on my Fringe pass. Mark and Jess had the same idea, as I ran into them in line. Pajama Men was a burst of energy when at least two of us had none left - the titular dudes never stopped moving the entire hour. All ended well when I returned to the car at two past midnight on Brunswick and found no parking ticket. Good sign for 30? -
JB
Tuesday, February 15, 2005
As per usual, the photos are going up before the rest of the story. In short: spent the weekend in Guelph for JD's 30th birthday, one of many I suspect I'll be attending this year, as those of us born in '75 hit that milestone
.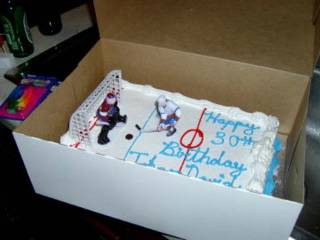 The birthday cake. More on-ice hockey action and thrills than anything in the NHL so far in 04/05. Best thing - not sickly at all. As much as I dislike A&P/Dominion/Ultra, they make fine celebratory cakes.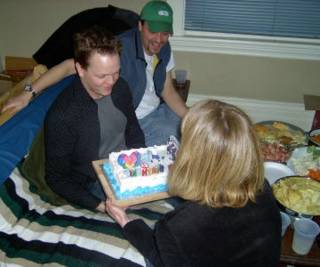 The birthday receiving his cake from the lovely Elizabeth.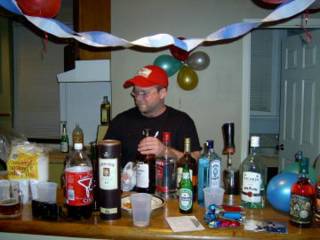 The bar for the evening. Note the boot on the right - take a guess as to what was on tap. -
JB
Thursday, July 22, 2004
...or one long, crazy night tied into celebrating my birthday.

Friday night started off by meeting up with Dee and Nile at Bloor and Spadina for dinner. Tried a new Nepalese/Indian restaurant over by Brunswick, Mt. Everest. Had seen it in a review in Now, sounded good, fit the gang's criteria of being either Indian or Thai and was not far from the second stop of the evening.

Attendance at dinner was meant to be a surprise - a large table had been reserved for surprise guests to show up. Since notice was sent out late, it ended up being a group of five (Kiersten and Ken joined in). This didn't bother me, since I see everyone regularly, know we all have insane scheds and one idea they'd thought of couldn't happen that night (look sometime soon for Tales from the Bowling Alley). Mt. Everest was a wise choice, as everything was delicious. Oddly, I was the only one to order a meatless dish (sinfully good paneer in tomato sauce loaded with green peppers and shredded ginger), but we all passed our choices around. The others made wise chicken and lamb choices, while Nile seemed satisfied with his first sampling of goat.

Walked down to DK Ranch afterwards. This month's show could be called a Fringe wrap-up, as all of the acts had been part of the festival. Lots of goofball stuff, from an inflated palm tree used by a sketch troupe to signal the end of skits, to a duo cheerily singing odes to God (including a Christ-variant on Stayin' Alive). Hung around afterwards, chatting as I was plied with birthday vino.

Around midnight, I starting slipping in and out of this dimension. Maybe it was lack of sleep over the week catching up. Maybe it was heeding the cries of the hosts to chug down a glass of white wine. Maybe it was dinner interacting with both. Not quite drunk, not quite sleepy, definitely not focused - strange world. My memory's clear, so I couldn't have wandered far away. Mainly remember taking forever to decide if I was going to leave when Dee and Nile did or stick around with Sheila and Paul (did the latter). Remember going on about Canadian history with Sheila and Kristian, and talking with much younger art school chicks with phobias about dangling objects.

For an hour, there was debate about moving the party over to Sneaky Dee's, a trip which finally happened around 1:30. Astonished to see several folks around up full meals that late at night (I nibbled on a few nachos - anything more would have made for a miserable sleep). Stayed there until quarter-to-three, then caught the Bathurst vomit comet with the art students. An acquaintance of one of them was on the bus, who one of the others called "greasy", due to a clammy handshake and wrecked appearance.

Hopped off at Eglinton, figuring there'd be another bus along shortly. I should have walked home, as I was stuck there until 3:30. My head had returned to this plane of reality, but there wasn't much for it to observe. Upper Forest Hill is dead as a doorknob at 3:30, with no signs of activity. Ideal place to shoot night scenes in a post-apocalyptic flick. The only distraction was a fully-lit window in a magician's supply store. The bus finally came, but only went as far as Eg station - I settled back into my stupor, as it took several cries from the bus driver to get me off (it looked like another bus would take over the route to continue east). Home just before 4, promptly collapsed in a heap.

Welcome 29.