Toronto-Niagara Falls-Syracuse - 474.7 km
Lesson: if bringing a suitcase with you across the Canadian-U.S. border, such as checkpoints along the Niagara River, make sure you cut off all tags from your last trip, as the Amtrak tag from last year's visit to New York raised the guard's ire. Several questions were repeated, likely to try to catch me off guard. She also seemed ultra-curious about how much money I was bringing into the US. No sign of humanity whatsoever, furthering my theory that all guards along the Niagara border are partially cybernetic.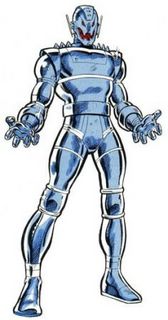 What border guards along the Niagara River look like underneath.
Limited myself to a quick stop at the outlet mall in Niagara Falls, where the trip's book blitz began. Walked out with a couple of cookbooks and a history of Our Gang/Little Rascals (yeah, I grew up with endless Sunday morning reruns of
Mush and Milk
and
Our Gang Follies of 1938
on channel 4). Headed east on the NY Thruway, breezing along while burning my arms. Little did I know there'd be plenty of time for them to heal up...
Arrived in Syracuse around 5:30-6, found a hotel room immediately at a Microtel off Carrier Circle, a giant roundabout adjacent to six million chains, except for the remnants of an ancient HoJo's at the south end. Microtels are basic but comfy, with a full cable package to make up for all that TV I don't watch. Cue a
Chappelle's Show
marathon on Comedy Central, along with mucho laughs from Fox News Channel.
The cookbook count grew, thanks to extreme markdowns at a Waldenbooks in a half-deserted mall (the only store I noticed much traffic in, apart from department stores, was a goth/RPG supplier). Also began the quest to sample products from every grocery chain along the way, with Price Chopper (no relation to Sobeys' "no frills" stores). Only picked up a can of soup, due to everything else requiring a loyalty card to get a discount. Rant to come.
Ended the day at Barnes and Noble, plotting out the next day's route with a new road atlas, to go with a book on cheesy late-night informercial products (GLH - Great Looking Hair - anyone?)