Over the course of the roadtrip, I couldn't resist visiting most grocery store chains I came across. Let's just say the nuclear stockpile of food grew significantly. As a consumer service, the Warehouse Test Kitchen will review these products over the next few months, letting the public know if it's worth the trip to Massachusetts for sarsparilla or Quebec for "exotic" fruit juice.
First up, some homestyle goodness from Joisey...
PATHMARK HOMESTYLE LENTIL SOUP
Pathmark, Newark, NJ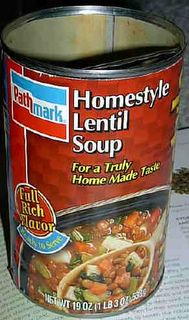 Package Notes:
The folks at Pathmark are proud of their product. How so? Dig these directions:
"DO NOT ADD WATER. SERVE FULL STRENGTH, JUST AS WE COOKED IT."
It's much funnier if you picture these instructions in a New Yawk accent.
What's It Like?:
different from most canned lentil soups I've tried, due to the chunks of potato and smoke flavouring. Borders on bean and bacon, without the little bits of bacon. Thick consistency, dark brown colour that may remind you of a body by-product. Definitely less vibrant than the soup pictured on the can.
Would You Buy It Again?:
Yes. Tastier than most canned lentil soups, yet the smoke flavour isn't overpowering. Hearty another to be split over two lunches, would make a great sandwich companion.