This month's Chowhound meetup resto: Hanoi 3 Seasons (588 Gerrard St. East), which was reviewed by
Now
in February
This is part of a mural in the parking lot on Gerrard just west of Broadview, featuring interpretations of the seasons.
Here's the outside of the restaurant, located steps east of Broadview on the north side of Gerrard. It's a cozy place, which filled quickly after our arrival. Probably a good thing we were a smaller group than usual (only four were able to make it).
In front, #4 Hen (sauteed baby clams served with crispy rice cakes, which were cracker-like scoops flecked with black sesame seeds). Behind, #5 So Hap Gung Xa Ot (steamed mussels, which came in a tasty broth).
Note the empty glass on the right, a quickly-downed jackfruit shake. Two of us were going to go for soursop, but that was the only fruit out of the half-dozen specialty shakes on the menu that they were out of. Reminded me of the shakes at The Mini in Windsor (yes sis, one of these days we will go there again!). One person tried a durian shake, which they thought had a slight hint of dirty socks.
On the left, the #6 Bun Canh Tom Hanoi (spicy shrimp soup with lemongrass and tamarind). In the middle, #3 Cha Gio Cha Muc ("seafood balls" and heavily-stuffed spring rolls). At right, #28 Ga Sao Rau Cai (garlic chicken and stir-fried vegetables).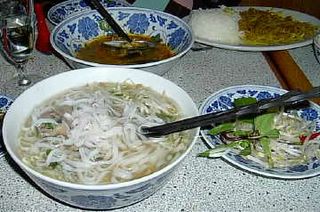 In front, my main, the #18 Pho Tai Nam (rare beef with well done brisket), large size. To the right in the back, the #25 Bo Xao Sate (spicy beef sate with basil and mint).
To top it all off, it was the restaurant's first-year anniversary. Cue free champagne and black forest cake.
Service was excellent - our server showed us jackfruit in its natural form, since most of us had never seen one before, then later showed us the house specialty fish dish that was his dinner. -
JB