A friend of mine jokingly came up with a theory that Victoria Day/May Two-Four weekend is a prime babymaking time, bashed on the carload of friends' birthdays over the past week. Given I went to two b-day celebrations on Saturday night, there could be merit in this position (except that one of the birthday people in question was not born in North America).
The night began in Cabbagetown, at the Underdown pub for Paul's b-day. Scheduled for 9:30, I figured I'd invoke the "15 minute rule" and not show up until just after 10. Did just that, to find nobody I knew there. Wasn't sure if I was at the right place, as there was a soiree of middle-aged folks upstairs. Wandered around the nabe for awhile, then was about to head off at 10:30 to b-day #2 when Paul, Sheila and the rest of the entourage arrived.
I stayed for the next hour, earning a sympathy drink from Sheila (thanks!). A pile of us crowded into a booth and chatted. It was tempting to turn on the organ behind us, especially with the way-too-mellow version of Leonard Cohen's Hallelujah drifting from above. Stevie D suggested we run up and "beligerent". That could have been a fun idea...
Around 11:30, I hopped on the College car to head over to Little Italy for b-day #2, Raquel's night of dancing at the Revival. Timing was perfect, as I ran into JD just after joining the lineup. Once in, I felt like I'd entered an old music video, with strobe effects and densely-packed dance floor. After 10 minutes of hunting, I found JD, who led me to the others, up by the stage, next to the ladies room.
JD, Elizabeth and Brad drove up from Guelph for the evening, and it was like old times. The boys spouted a steady stream of
Trailer Park Boys
imitations and unique interpretive dancing. Alas, Brad did not see his wish of hearing the MC5 cascade out to the crowd.
Being in front of a washroom led to being in the way for other folks, but also produced a few laughs. We noticed a large pile of feet crammed into one stall. Anyone is welcome to offer their theories as to what was going on in there.
We gradually moved downstairs, where 60s and 70s Jamaican tunes were spun. Loafing on the couches, I discovered unknown details to old Arts House tales, such as the night I inadvertently helped a friend come down from an acid trip with the videotapes I was watching in the lounge (ancient Lettermans, Dr. Who and god knows what else). Brad elaborated his love of the MC5. Kudos continued to roll in from the wedding back in the fall. Discovered Red Bull's too sweet for my taste, this coming from somebody with a fatal Slurpee addiction. Somehow I ended up with a VIP card for future use, a funny item who somebody who rarely hits dance venues.
It was nearly 4 AM before we split. Had a fair wait for the College Vomit Comet, during which I watched the last afterhours partiers from across the street stumble into cabs, who displayed a frightening inability to make clean u-turns. Eventually made it onto the Yonge bus, which flew uptown as if it was on an autobahn.
Paul and Raquel, hope you enjoyed your birthdays.
Here's what you've been waiting for, the pictures, taken by b-day girl Raquel. There's also a crossover entry at
Radio CRMW
(Jan 30th entry) that loosely ties into both birthdays.
We start the cavalcade of pictures with the birthday girl, Elizabeth and Alison in front of the territory we marked out on the dance floor...the entrance to the ladies room.
Three people pondering what lies behind the ladies room door. Mostly lots of feet packed into one stall.
Birthday girl and I, hamming it up for the camera.
JD and Brad raise their hands, taking a break from quoting the Trailer Park Boys.
JD got the moves down throughout the night.
The boy was a dancin' fool (choose whether you want to sing the unrelated Guess Who or Frank Zappa tunes of the same name).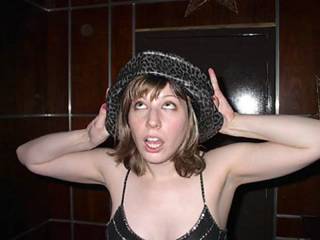 Meanwhile, the birthday girl tests out a hat...
...which wins approval.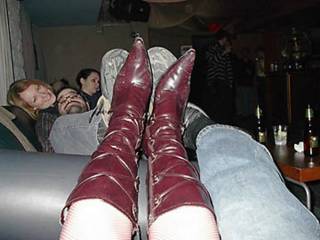 Into the wee hours of the morning, when all you feel like doing is putting your feet up. Until I saw these shots, I had no idea the basement walls were grey, or that Raquel's boots were reddish. That's dim lighting for ya! -
JB, photos by RA